Bạn đang xem: Tổng hợp review của người dùng về kem chống nắng tốt cho da mặt tại Nga Xô Shop
Before so many different brands of sunscreen, the choice of type good sunscreen for face Not everyone knows. Today's article, ngaxoshop.vn will help you review some good, effective and safe sunscreen products for your skin.
Main Contents of Articles
1. Guide to choosing the right sunscreen for your face
To choose the best sunscreen for your face, you must pay attention to the following issues:
SPF (UVB protection): The optimal index is SPF30 – SPF60. If you have to stay in the sun for a long time, you should choose SPF50 – SPF60.
PA index (anti-UVA): Choose PA+++ or higher for the best protection.
For oily skin: Choose a sunscreen that has a light texture and absorbs quickly so it doesn't clog your skin and make it more oily.
For sensitive skin: Stay away from chemical sunscreens, as they contain ingredients that can irritate the skin. You should choose physical sunscreens that contain benign ingredients and are friendly to sensitive skin.
For dry skin: Choose a sunscreen that contains moisturizers. Absolutely avoid sunscreen with alcohol.
For acne-prone skin: Choose a sunscreen that contains Zinc Oxide and Titanium Oxide to avoid inflammation and clog pores. Avoid sunscreens containing Oxybenzone and Parabens.
Sunscreen for swimming – going to the beach: Choose a sunscreen that is water proof.
Sunscreen when wearing makeup: Prefer to choose physical sunscreen so that reapplying every 2 hours can ruin the makeup.
If you have a need to whiten with sunscreen: Choose sunscreen with natural extracts such as Chamomile, Collagen, Amino Acid, Hyaluronic Acid, Glycerin and Vitamin C derivatives.
In the detailed review of each sunscreen, ngaxoshop.vn will give you the right skin type to help you quickly find the right product for you.
2. Detailed review of sunscreens for face skin
2.1. Anessa Essence UV Sunscreen Mild Milk
Anessa sunscreen comes from the famous Shiseido family, very popular in Japan. Mild Milk is cosmetic Tested and tested by the company to be completely suitable for sensitive skin, even baby skin.
Currently, Anessa has 4 versions of sunscreen, corresponding to 4 colors for easy identification, which are COPPER YELLOW, LIGHT GOLD, WHITE and BLUE. Each color has its own use and is for different skin types.
GOLD COPPER Version: There are milk types for oily/combination skin and gels for normal/dry skin. Has the highest waterproof and anti-drift properties (Aqua Booster), so it is suitable for you who often participate in outdoor activities, sweat a lot.
LIGHT YELLOW and BLUE Versions: EASYSpecially formulated for girls with sensitive skin with benign ingredients, fragrance-free, alcohol-free, mineral oil-free and paraben-free. Can also be used for children 1 year old and up.
WHITE Version: Sunscreen is for those who want to combine sun protection with facial whitening, reducing dark spots.
Outstanding advantages:
Mild Milk's sun protection index is SPF35/PA+++

Tested for irritation, ensuring absolute safety for sensitive skin.

The formula contains intensive moisturizing ingredients such as hyaluronic acid, marine fish collagen, aloe vera extract, glycerin, etc.

No Colorants, No Fragrances, No Alcohol, No Mineral Oils, No Parabens

High water resistance
Reviews and ratings:
This girl has been storming for a long time and received a lot of good reviews from Beauty Bloggers. Although it is a sunscreen, its moisturizing ingredients are very impressive. This girl moisturizes very well, I don't use cream but my skin is still soft.
Creamy liquid milky texture, easy to spread, easy to absorb, not greasy. When applied, there is a slight shine, but after patting for about 5 minutes, it is completely absorbed into the skin. You can also replace the primer.
2.2. Vichy Ideal Soleil Spf50 Face Dry Touch Sunscreen
Vichy is a brand genuine cosmetics from France, with more than 80 years of beauty care for women around the world. Its products are made for people with sensitive skin. Ideal Soleil Face Dry Touch is the most used sunscreen line.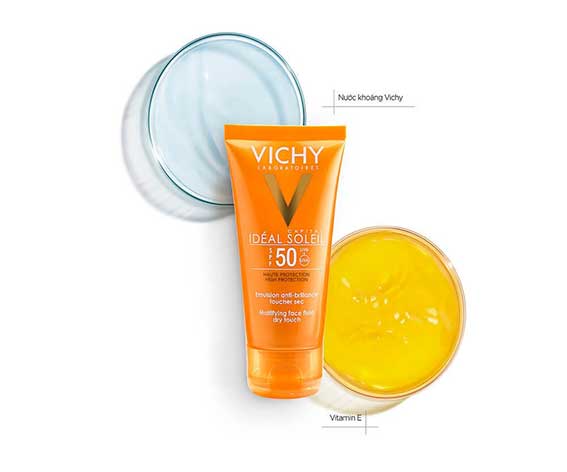 Outstanding advantages:
Chemical sunscreen with SPF 50 and PA+++

Vichy's exclusive Mexoryl filter helps protect skin against the harmful effects of UVB and UVA rays

The combination of Vitamin E and Silica has antioxidant capacity, protecting the cell structure of the skin

Vichy mineral water supports the regeneration and nourishment of the skin barrier

Paraben-free, non-irritating, suitable for even the most sensitive skin
Reviews and ratings:
This is a typical sunscreen of the company, so the quality can't be faulted. The exclusive sunscreen filter technology protects the skin from UV rays. The product is packed very carefully because there is a paper box outside with full Vietnamese information, the tube is in the form of a folding lid, so when the tube is erected, it will be pressed down to make it easier for you to take the product out.
However, the lid of the box is a bit loose, so you need to be a little careful. Both the cream tube and the paper box have an eye-catching orange-yellow color. The cream inside is milky white, creamy but moist, quite easy to spread and quickly absorbed into the skin, leaving a gentle fragrance. This scent will go away very quickly, so those who are allergic to scents do not need to worry too much.
The feeling after applying the cream is that the skin has a slight tone (just a moment later it is normal), the skin looks shiny but not greasy, the cream creates a concealer effect on the skin to help the skin look healthy and alive. than. The ability to resist sunlight and control oil is relatively good, the skin does not tan, if combined with adequate moisturizing, by the end of the day the skin will only have a slight oil spillage.
After using it for a while, I feel that the product is very benign, does not cause acne or irritates the skin at all. The texture of this cream is also quite thin, easy to spread and easy to absorb. This sunscreen has fragrance so it smells like perfume. If you don't like the smell, beware.
The product has a good moisturizing ability, applied to the skin, the skin is moist, not sticky or tight. After about 3 minutes, the cream is completely absorbed into the skin.
2.3. La Roche-Posay Anthelios Ultra Fluid Sunscreen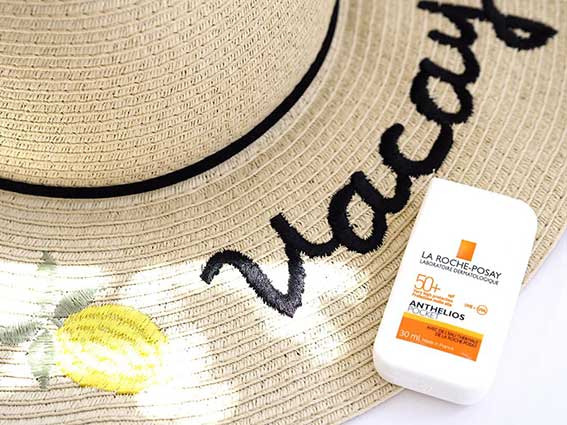 Outstanding advantages:
Light liquid texture – not greasy

Specialized for sensitive skin – acne skin

Sunscreen index SPF50; PA++++

Can be used as a makeup primer
The first impression that makes me like the most is that the product has no smell and has a pump nozzle so it is easy to store, the pump is easy to use and does not waste cream. This is definitely what sensitive skin girls have been waiting for!
This baby does not cause skin irritation at all, when applied to the face, it feels very light. So La Roche-Posay Anthelios Ultra Fluid is especially suitable for sensitive or acne-prone skin. The lotion product should be absorbed very quickly and is not greasy, it protects from the sun and prevents UVA and UVB rays very well thanks to the Mexoplex filter.
However, because of the liquid form and quickly absorbed, it is a bit expensive to use compared to regular cream. The special thing is that La Roche-Posay sunscreen can act as a primer for girls, lifting skin tone but not too white, loving it just the way I like it.
Many oily skin girls commented that the ability to control oil is also quite good, and importantly, DOESN'T cause acne.
In short, this baby is too suitable for women who are allergic to scents, sensitive skin or prone to acne. Has good sun protection and oil control and especially can be used as a makeup primer.
2.4. Za True White Ex Perfect Protector Sunscreen
This is a sunscreen introduced for oily skin girls with a very elegant tube packaging design. Still the same white background as other products of the company combined with pink letters highlighting 3 typical uses of the product: protect skin from dirt, control oil, whiten skin thanks to Triple C derivatives .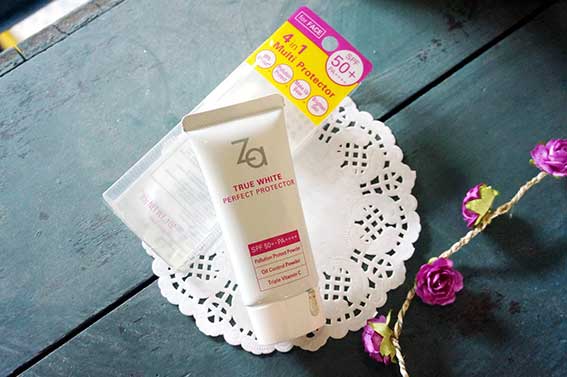 This product has a light cream consistency, not too thick, so you need to be gentle when taking the cream lest it splash around or take out too much and cause waste. About the ability to whiten, I would like to not mention because I have not used it long enough so I have not felt it.
But the feeling is that this baby when applied to the skin is light white enough to cover the pores, not white. Za True White Ex Perfect Protector cream controls oil quite well, the skin becomes more airy and not greasy, thus limiting the possibility of acne formation.
I feel satisfied when using it daily with a bare face, in addition, I have also tried combining this sunscreen as a makeup primer and found it quite effective because the coverage of pores is quite good, making the foundation smooth and beautiful. smoother. In short, for those with oily skin, this one is the standard choice that doesn't need to be adjusted!
2.5. Senka Perfect UV Milk Sunscreen
This sunscreen has a cool-looking blue shell that comes in a zip bag so you can easily open it to get the tube without using scissors. If I had to look at the cream to guess the name, I would probably mistake this for Sunplay skin aqua sunscreen because the texture and fragrance are quite similar.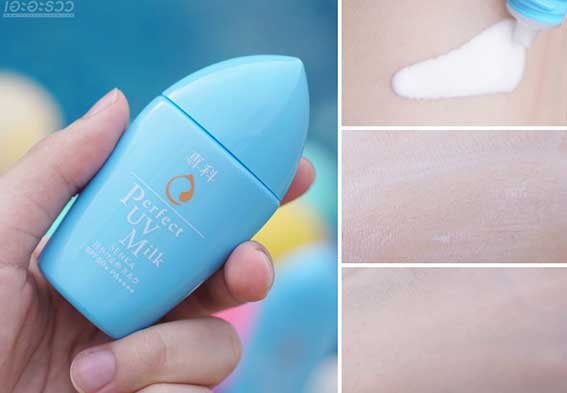 When applying the cream on the skin, it feels very light, easy to apply and does not leave white streaks like some sunscreens I have tried. The cream dries very quickly and leaves a pretty smooth, slightly whiter skin.
The difference of Senka Perfect UV Milk cream compared to Sunplay sunscreen is that it does not make the skin tone down, and the skin is also less oily than usual.
2.6. Avene Very High Protection Sunscreen
This product can be used as a concealer foundation and comes in a handy pump dispenser. Each time you use it, just press the right number of times to have the necessary amount of cream to apply, no worries about applying too little or too much cream causing waste.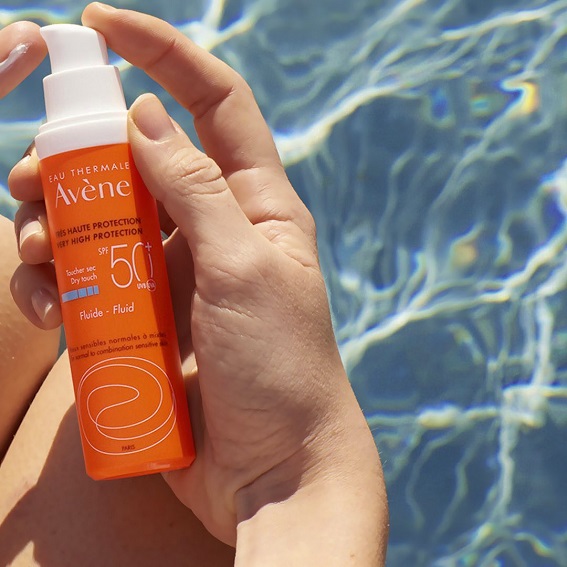 However, when applying the cream to the skin, it feels a bit greasy (because the cream is greasy, not because it makes the skin secrete greasy). In general, I don't like the greasy, shiny look like that, but the thing is that the cream absorbs very quickly.
2.7. Sunplay Skin Aqua Sunscreen
Before, I rarely used sunscreen, only when I went to exercise or went to the beach to use it, but since my face was rebellious and I had to take acne medication, my skin became weaker and weaker, it was easy to catch. sunny.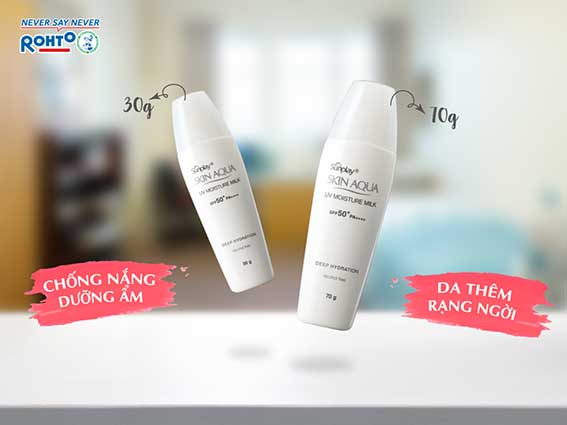 The doctor advised me to stick with sunscreen if I don't want my skin to age prematurely. So I decided to try this because she said it was a sunscreen for acne skin and felt quite satisfied. The cream is white, milky, so it is easy to apply and quickly absorbed into the skin. It's just that the forehead area has white streaks, is it because I spread it unevenly?
The feeling when applied to the skin is very smooth and the skin is also brighter, but after removing makeup, it is a bit dry and not much oil control. So I usually apply a layer of moisturizer first and then sunscreen.
2.8. Biore UV Perfect Block Milk Sunscreen
I happened to use this product because my friend is crazy about Biore sunscreen, it keeps advertising that this baby is cool to apply, very good sun protection, if you don't try it you will regret it for a lifetime…bla…bla…
So I was curious to try it out. Just like the "cool" in her name, after applying on the skin, there is a very cool feeling. Similar to Sunplay, this one has a white milky form, so it absorbs very quickly after applying.
My feeling afterwards is that the skin is not as soft as when using Sunplay, but in return, this product controls oil better. She also causes dry skin so need to use more moisturizer.
I don't see white streaks on my skin after applying, and when my skin sweats, less cream drifts. What I like is that this one can be used for both face and body, listed as a cheap sunscreen for students like me.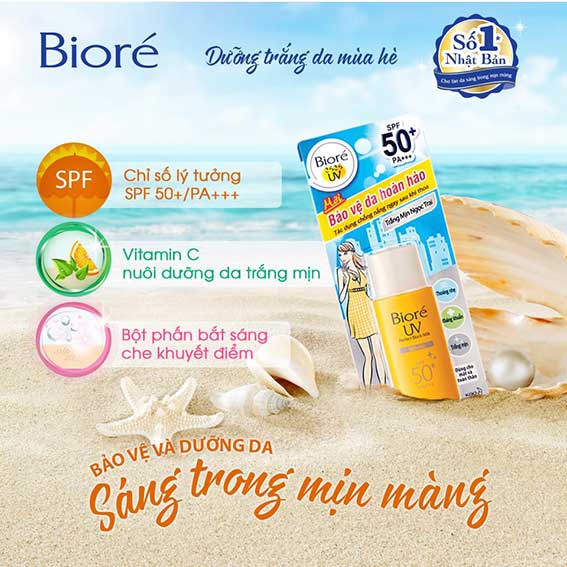 2.9. Clinique Face Spf 30 Mineral Sunscreen
Clinique is a cosmetic brand known for its benign ingredients and has been tested by dermatologists. Face Mineral Sunscreen is a sunscreen line suitable for all skin types, providing outstanding sun protection.
Outstanding advantages:
This is a physical sunscreen with SPF 30

UVA/UVB filter helps to reflect UV rays, like a thin film to protect the skin

Non-greasy and does not clog pores when applied to the skin

Không lấy phí of fragrances and skin allergens

Gentle enough to use around the eye area
Reviews and ratings:
This is a physical sunscreen, so when applied, it will leave white streaks on the skin. After about 5 minutes, the cream is dry and non-sticky, pores are still open, not uncomfortable. After applying this, my skin feels lightly moisturized. This product is designed for those with oily or combination skin.
Using a good sunscreen for your face is one of the most important steps in protecting your skin's health. Especially for women who have sensitive, acne-prone, easily irritated skin. Through today's article, we hope to help you choose the best and most suitable sunscreen for your face.
Source: https://ngaxoshop.vn/
Categories: Blog